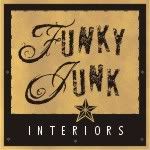 as many of you have discovered, there is a blogger out there who has her finger on the pulse of junk decor. funky junk donna along with junkmarketstyle have been an inspiration to me to fine tune and re-connect to my style-love of old, vintage, rusty, galvanized junk.
about five or so years ago, i went through a period of time decorating with the primitive, folk art style. i think i convinced myself that it worked for me, but honestly, my true heart was in items that had a history or a story to tell.
there's nothing wrong with this style, it just isn't my heartbeat.
i married a man who's grandfather was an antique dealer for many years. their home was filled with beautiful antiques, all with a story to tell. we have since acquired several wonderful pieces from their estate but i digress. the reason for this post is to show how my true style has finally shown through. and to pay homage to those in blogland who have been my inspiration for getting back to my roots, so to speak.
without further ado, i now present my
funky

junkified-

inspired farmhouse decor
there is now a wood insert in other side to sit drink cups, etc
(sorry i don't have pic with it finished)
rusty, crusty metal toys
rusty metal and weathered wood
soda pop crates, vintage tins and more toys
the red trolley car was found inside a wall during a renovation project!
and

donna

...this one is for you
FYI: if you haven't discovered this new catalog
and you love the rustic, recycled style
check out the sale page too.
at west end
a unique place for rustic and recycled home decor
$5 shipping any size order
i am not being compensated by this company...i just like their products!